You must allow cookies and JavaScript for a proper shopping experience.
Price: $50.00
Publisher: David Longworth : 1811
Seller ID: 9400
Binding: Hardcover
Condition: Poor with no dust jacket
---
226 pages; 24mo (5.75") 15 cm; Small format (3.5 x 5.75 inches) 91 x 144 mm, b/w frontispiece engraving of ancient lyre, about 220 songs and ballads by various poets, including anonymous, under the following headings: Pastoral, Moral, Convivial, Amatory. Lyrics only, no tunes. ; Reprint of 1772 original. This edition 1811, with essay revised by author, and addition of one original poem, Origin of Song Writing, by Mrs. Anna Laetitia Barbauld, author's sister. ; Author wrote prolifically on freedom of conscience, was longtime editor London Monthly Magazine (1796-1807) and wrote massive 10-vol se...
View More...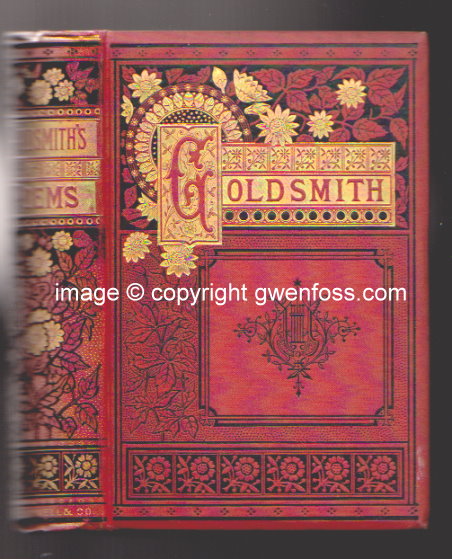 Price: $26.00
Publisher: Thomas Y. Crowell & Company : 1889
Seller ID: 15720
Binding: Hardcover
Condition: Very Good+ with no dust jacket
---
565 pages; 12mo (7.5") 19 cm; Hardcover, beautiful red cloth, ornate decor in black and gilt on front and spine, gilt lettering, [xxvii] + 530 + 8 pages, all edges gilt, pale yellow endpapers, 6 b/w illustrations including frontispiece with tissue guard, 31 poems, 2 plays, 31 essays. ; This edition undated, but we believe it to be 1884 edition, this printing probably 1889. ; Very minor wear to heel and crown. Gift note penned on front flyleaf, in very faded ink, dated Christmas 1889. Gilt is sparkling. Book appears unread.
View More...