You must allow cookies and JavaScript for a proper shopping experience.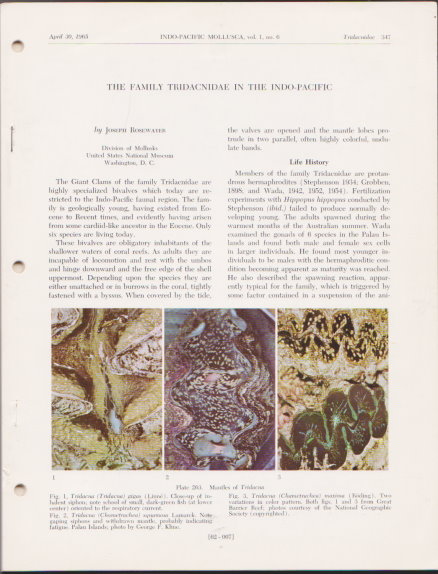 Price: $54.00
Publisher: Academy of Natural Sciences : 1961
Seller ID: 22551
Binding: Softcover
Condition: Near Fine
---
589 pages; 4to (11") 28 cm; 1961-1973 with gaps. ; Tall, self-wraps, 589 sturdy glossy pages, 1186 b/w photos, diagrams, range maps, etc; 255 photos and illustrations in full color. ; Published by Department of Mollusks, Academy of Natural Sciences, Philadelphia, 1961-1973, and by Delaware Museum of Natural History, Greenville, Delaware, 1973.; Quite scientific. Written and edited by R. Tucker Abbott, with contributions from Joseph Rosewater, Peter Jung, Harald A. Rehder. ; Vol-1, No-3, Genus Lambis, 28 pages. Vol-1, No-6, Family Tridacnidae, light foxing, 62 pgs. Vol-1, No-7, Genus Terebellum...
View More...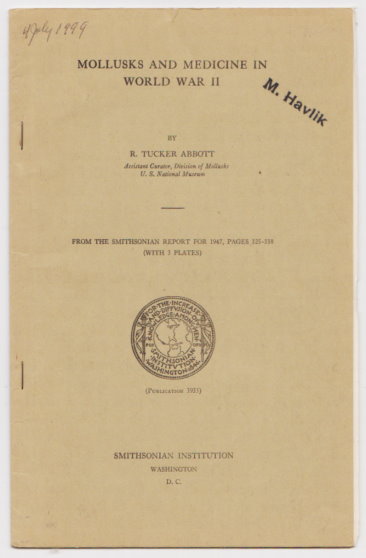 Price: $14.00
Publisher: Government Printing Office : 1948
Seller ID: 22538
Binding: Softcover
Condition: Very Good-
---
24 pages; 8vo (9.5") 25 cm; Softcover, gray-brown covers, 24 pages including covers, table of human Trematode diseases, map of Pomatiopsis snail distribution in eastern US, 6 diagrams of stingers of cone-shell mollusks, 6 b/w photos. ; Originall published by Smithsonian Institution, publication number 3933, 1947. This edition by US Government Printing Office, 1948. ; Describes shistosomiasis or shisto, a parasitic disease common in Philippines, how attempts were made during WW2 to control it by eliminating the snail that carried it, and other parasitic diseases carried by mollusks. ; Front cov...
View More...